EASTER IN APRIL 2019 - SATURDAY 13 10am-1pm
• FREE PHOTOS WITH THE EASTER BUNNY •
• FACE PAINTING • FREE EASTER EGGS • MUSIC •
Come along to Lower Plenty Shopping Centre and have your photo taken with the Easter Bunny for FREE!
MOTHERS DAY 2019 - POETRY COMPETITION
ENTER NOW!
EVENT DATE SATURDAY 11 MAY 10.30AM - 12.30PM
Two Categories - 13yrs & Under / 14yrs & Over. 3 PRIZES IN EACH TO BE WON!
See flyer for more info or contact Linda on 0417 383 410
PAST EVENT: CHRISTMAS CHEER 2018
PAST EVENT: BIGGER & BETTER LAUNCH SEPTEMBER 2018
PAST EVENT: Mother's Day Drawing and Poetry Competition 2018
PAST EVENT: Mother's Day Drawing and Poetry Competition 2016
PAST EVENT: Easter Promotion
The Easter Egg hunt winner has been announced!!! CONGRATULATIONS to Ryan Kelly entered on behalf of his Mum Simone Kelly on guessing the correct number of eggs in the shop windows!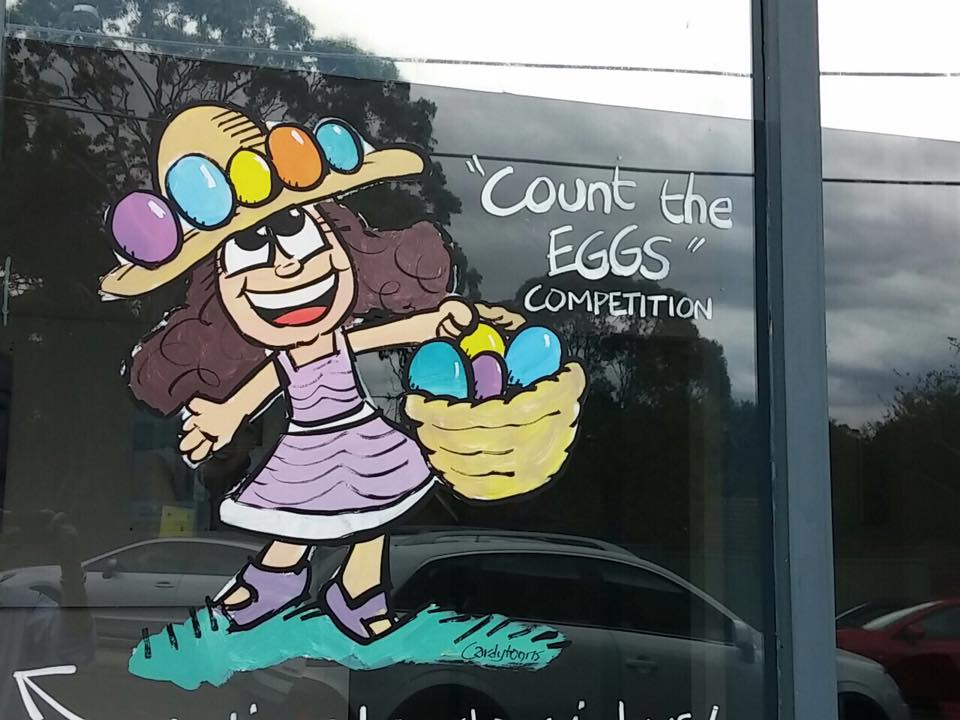 PAST EVENT DECEMBER 2015: Christmas Giveaway
PAST EVENT JULY 2015: The Serpent Sculpture Launch and Naming
MEDIA RELEASE
Friday 3 July 2015
Giant serpent snakes into Lower Plenty but is on the bench until named
The community is being asked to name a new serpent sculpture which has been created as an iconic landmark at the Lower Plenty Shopping Centre on the corner of Main Road and Para Road.
A collaborative community sculpture and landscape project, the serpent sits atop a bench seat and was created by local artist Phillip Howe, with the support of Banyule Council, Lower Plenty Traders and Montmorency Secondary College students.
It is being launched at a community event from 3.45pm on Thursday 30 July, with Wilbur Wilde officiating, and musicians Lesley Avril and Paul Gadsby. Entries to name the serpent close on 28 August 2015.
The sculpture's creator, Phillip Howe, said the sculpture reflected Banyule's rich artistic heritage, culture, environment and community life.
"It is fantastic to see it come to life. I had the idea for it having grown up in the area. When you enter Banyule, the landscape changes with gum trees and the Yarra and Plenty rivers snaking along the back, and as a kid we would play along the river," he said. Phillip even took literal inspiration from the Yarra River, mimicking a set of bends to create the serpent's seven metre shape.
Apart from Banyule's connection to rivers, the sculpture, which is made from metal and glass, incorporates numerous other references to the local environment including:
· 'Banyule' - an Aboriginal world meaning hill and reflected in the serpent's rolling form.
· Indigenous heritage - the rainbow serpent, the creator of nature, the land, water and plants.
· Biodiversity - the snake, leaf and additional wildlife elements.
· Banyule's artistic heritage, including the Heidelberg School of Artists, the Modernists of Heide, and other regional artists.
· Indigenous art and traditional land owners, the Wurundjeri-Willam and Woi Wurrung clans.
"We love to acknowledge overseas people but we tend not to take pride in ourselves. I think it's important that we show where we have been and our history. There is a lot of storytelling in the sculpture," Phillip said. He said the work's reference to Indigenous culture was also a reminder that we live on Indigenous land and need to pay respect.
The Mayor of Banyule, Cr Craig Langdon, said public art was an important part of community life and the sculptural bench was not only functional but beautiful and with layers of meaning.
"This has been an important community project involving many people, including students at Montmorency Secondary College who worked with the artist to create the mosaic tiles in the pathways surrounding the sculptural bench," he said.
Linda Carroll, of the Lower Plenty Traders, said the sculpture was an iconic landmark for the busy shopping centre and would be admired not only by locals but by the thousands of commuters who use Main Road each day.
"This sculpture is strategically positioned as a gateway to the Valley of the Arts and the Heidelberg Artists Trail, as well as being a thing of beauty where people will naturally gravitate to as a meeting place," she said.
Naming Competition: entries must be delivered to Thompsons Pharmacy at the Lower Plenty Shopping Centre by 5pm on Friday 28 August 2015. All entries must contain entrant's name, contact details and suggested name for the serpent. The winner will be notified, with a presentation occurring at 4.30pm on Friday 4 September 2015. The prize is $500 of local trader vouchers.